Interview with Diane Weimischkirch in Luxemburger Wort 8. June 2020:
Download File: LuxWortArtikel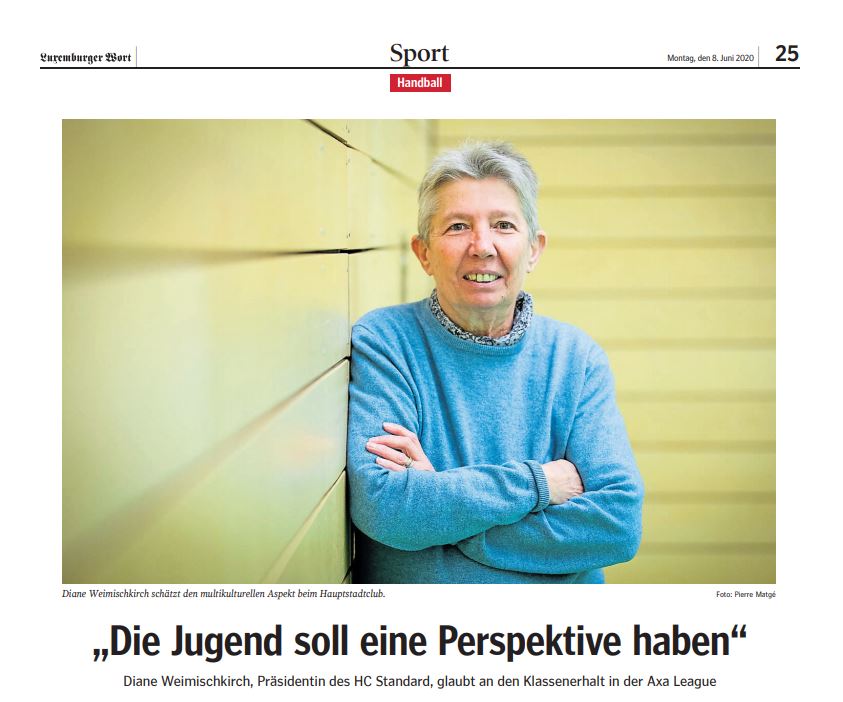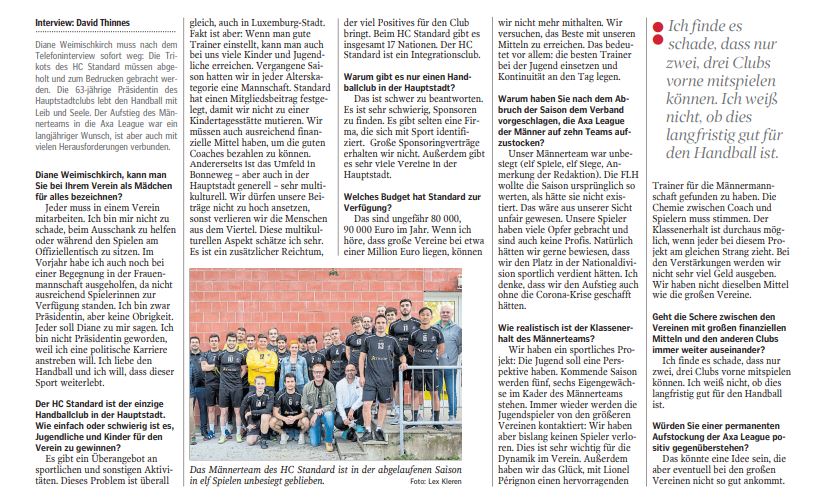 HC Standard AXA League (10.05.2020)
Très très bonne nouvelle!!!!!!!!
Notre équipe Seniors Hommes a réussi la montée en Axa-League suite à un référendum qui a eu lieu après l'arrêt du championnat dû au Covid-19.
Notre équipe avait remporté toutes ses rencontres jusque-là et donc a mérité la montée parmi l'élite du handball luxembourgeois. Bravo pour notre collectif Hommes.
Maintenant il faut travailler de manière assidu afin de se maintenir parmi l'élite et ceci surtout que toutes les équipes jeunes qui suivent vont pouvoir avoir un regard fier et se voir intégrer une équipe au plus haut niveau.
Mais ceci demande une discipline de fer de tous les membres et parents des jeunes au sein de notre club. Etre présent à tous les entrainements et compétitions de son équipe respective et donner plus que 100% de sa performance.
Il s'agit d'un défi lancé au sein du club et d'une identité forte à retrouver dans le club.
Un club est comme une famille et a besoin de beaucoup de mains pour réussir dans les projets sportifs tout au long de la saison. Une identification avec le club aussi bien en essayant de trouver des moyens financiers ainsi que d'oeuvrer comme bénévole devront être les piliers à partir de la saison prochaine.
Aidez-nous tous à réussir ce défi la saison prochaine.
Very very good news!!!!!!!
Our Senior Men Team succeeded to the Axa-League following a referendum which took place after the end of the championship due to the Covid-19.
Our team has won all of its matches so far and therefore has earned the rise among the elite of Luxembourg handball. Bravo for our men collective.
Now we have to work diligently in order to stay among the elite and this especially since all the young teams that follow will be able to have a proud look and be integrated into a team at the highest level.
But this requires iron discipline from all the members and parents of young people in our club. Be present at all trainings and competitions of their respective teams and give more than 100% of their performance.
It is a challenge launched within the club and a strong identity to be found in the club.
A club is like a family and needs a lot of hands to succeed in sport projects troughout the season. Identification with the club as well as trying to find financial means as well as working as a volunteer should be the pillars for next season.
---