Welcome to our interview page. This page will let you get some insights of our club and of the person we are interviewing. Have fun reading it (English version after the French one).


Interview with Steve Marssard-Chenet
Captain of the men's team and coach of the U17 boys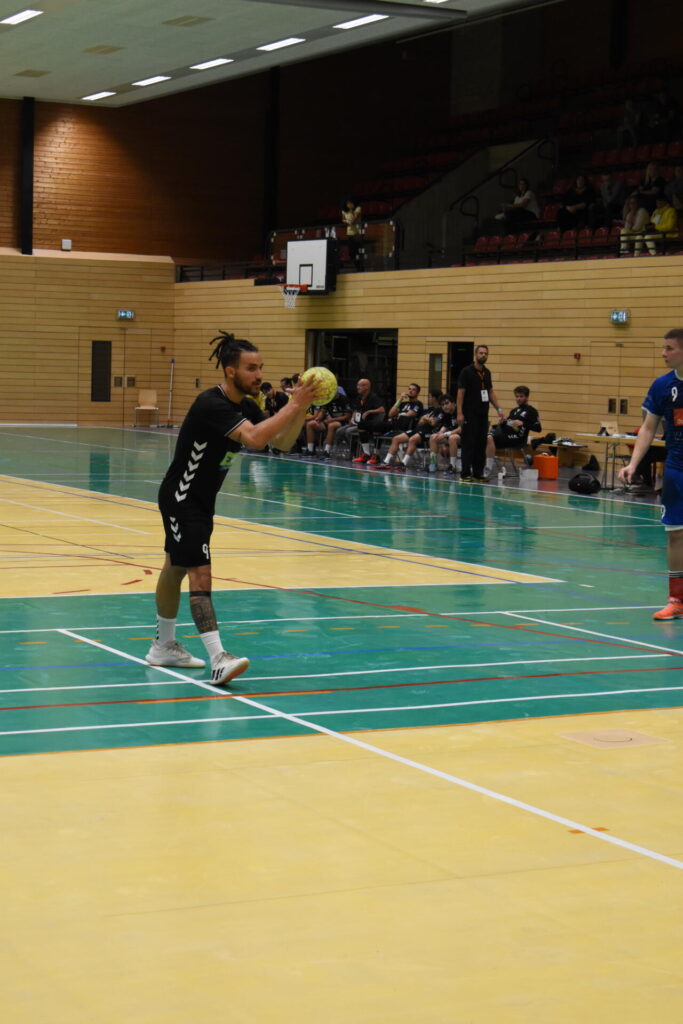 Interviewer: Steve, tu as rejoint le HC Standard avant la saison 2020/21. Quelle est ton impression du club après 1,5 ans ?
Steve: J'ai rejoins le club après une mésaventure avec mon club précédent dû au COVID . C'est grâce à Simon Gallego que je suis venu au Standard , j'ai joué avec son frère quand j'étais à Nîmes et il m'avait proposé de rejoindre l'équipe quand je n'avais plus de club .
Au final après 1 an et demi je ne regrette pas , cela m'a permis d'avoir plus de responsabilité et de liberté dans mon jeu . Au-delà du groupe qui je trouve a un gros potentiel , Standard est comme une grande famille, c'est convivial et c'est ça qui m'a donné envie de rester la saison suivante.
Interviewer: Comment ça se passe pour l'équipe masculine ? Après avoir raté l'objectif du championnat, quels sont les objectifs pour le reste de la saison ?
Steve: Malheureusement nous avons perdu contre Mersch mais sinon la saison a bien commencé, même si cela va être difficile nous pouvons toujours nous qualifier en play-off donc il faut continuer à se battre.
Interviewer: Comment as-tu commencé à jouer au handball ?
Steve: J'ai commencé le Hand à l'âge de 6 ans , j'étais un enfant hyper actif du coup mes parents m'ont fait essayer tous les sports . Au final j'ai continué par ce que c'était le seul sport où j'étais bon 🤣!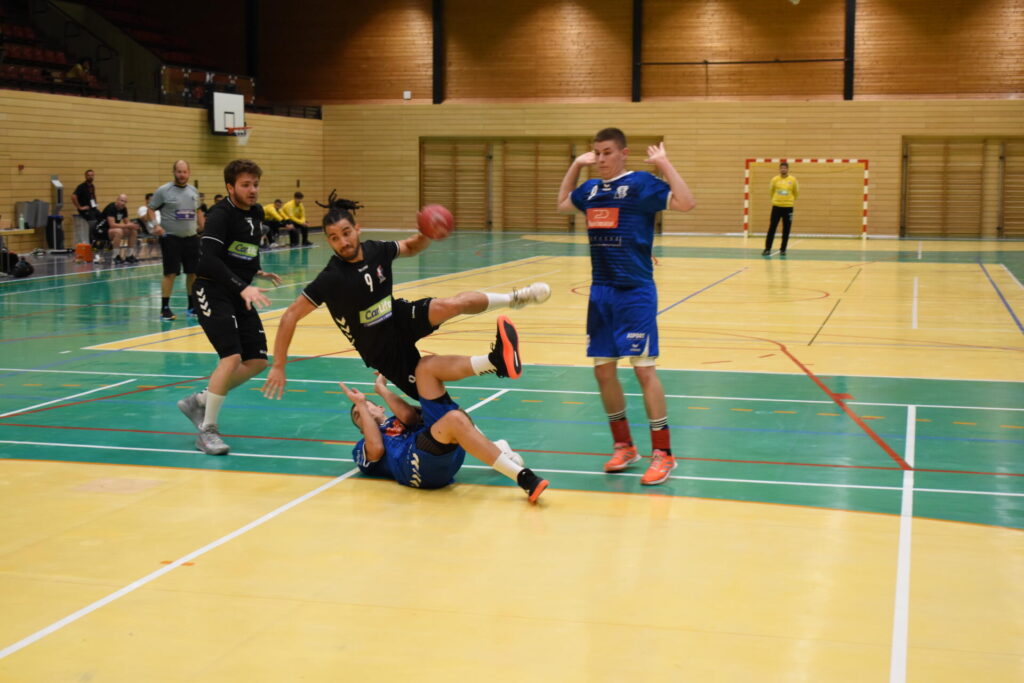 Interviewer: Peux-tu nous donner un aperçu de ta carrière dans le handball jusqu'à présent?
Steve: J'ai un peu traversé toute la France , j'ai commencé à jouer à Nîmes en première division pendant 4 saisons ensuite je suis parti à Cherbourg où j'ai joué 4 saisons aussi , puis Vernon , Billère et ensuite c'est Nikola Malesevic ( coach de Dudelange avec qui j'ai joué à Nîmes ) qui m'a contacté pour rejoindre Dudelange.
Interviewer: Jusqu'à présent, quel a été ton moment fort dans le handball?
Steve: Mon moment le plus fort au niveau du Hand il y en a pleins mais je dirais mon titre de champion de France de 2 ième Division avec Nîmes ( nous étions redescendu suite à une saison compliquée et l'année suivante nous avons tout gagné pour remonter direct ) j'étais jeune et j'étais dans mon club de formation.
Interviewer: Quelle est ta routine un jour de match? Que fais-tu un week-end quand il n'y a pas de match de handball?
Steve: Bien entendu j'ai une routine , j'essaye de faire le minimum d'activité le jour du match , la sieste traditionnelle et je mange en règle générale toujours la même chose et ma journée est très organisée. Depuis que je joue au Hand c'est toujours la même routine 🤣!
Interviewer: Tu es devenu l'entraîneur des garçons U17 il y a quelques mois. Comment ça se passe avec eux? Quels sont tes objectifs pour cette saison?
Steve:Je suis très content d'être le coach des U17 ça ce passe bien et ils sont à l'écoute . Il y a un gros potentiel dans l'équipe et si on travaille bien on peut faire de bonnes choses!
Mes objectifs sont bien entendu d'avoir des résultats et de gagner le plus de matchs possibles.
Mais surtout que les joueurs se développent mentalement, physiquement ainsi qu'au niveau du Handball. En espérant peut-être que certains puissent jouer un jour dans l'équipe Hommes 1!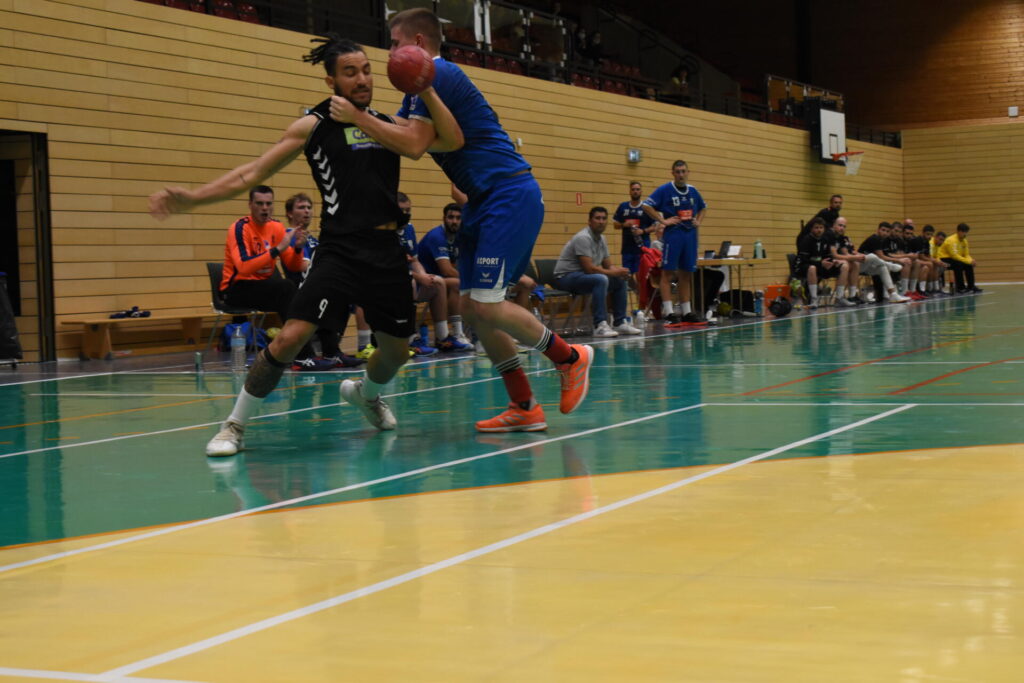 Interviewer: Que veux-tu dire aux jeunes joueurs ? Sur quoi doivent-ils se concentrer?
Steve: J'ai envie de dire aux jeunes, que si ils ont envie et qu'ils sont motivés pour pouvoir espérer un jour jouer en AXA League il faut être exigeant envers soi-même. En France, il y a une expression "on a rien, sans rien" et en gros ça veut dire qu'il faut se donner les moyens pour pouvoir atteindre ses objectifs!
Interviewer: Dans quel autre sport êtes-tu bon ? Dans lequel es-tu vraiment mauvais?
Steve: Je pense que je suis pas mauvais dans tous les autres sports. Mais à mon avis je suis très mauvais au volley pourtant j'adore ce sport 🤣.
Interviewer: Beaucoup de gens te considère comme l'un des meilleurs joueurs qui ont joué pour le club. Pour les jeunes joueurs, tu es un idole . Comment te sens-tu avec ça? Est-ce aussi une sorte de pression à laquelle tu dois faire face?
Steve: Cela fait plus de 10 ans que je joue au Hand , il n'y a pas de pression. Je dois avoir un niveau de jeu minimum à la hauteur des attentes du coach.
Meilleur joueur je ne sais pas mais en tout cas je donnerai tout pour représenter au mieux le club et montrer à la ligue que Standard a sa place parmit l'élite!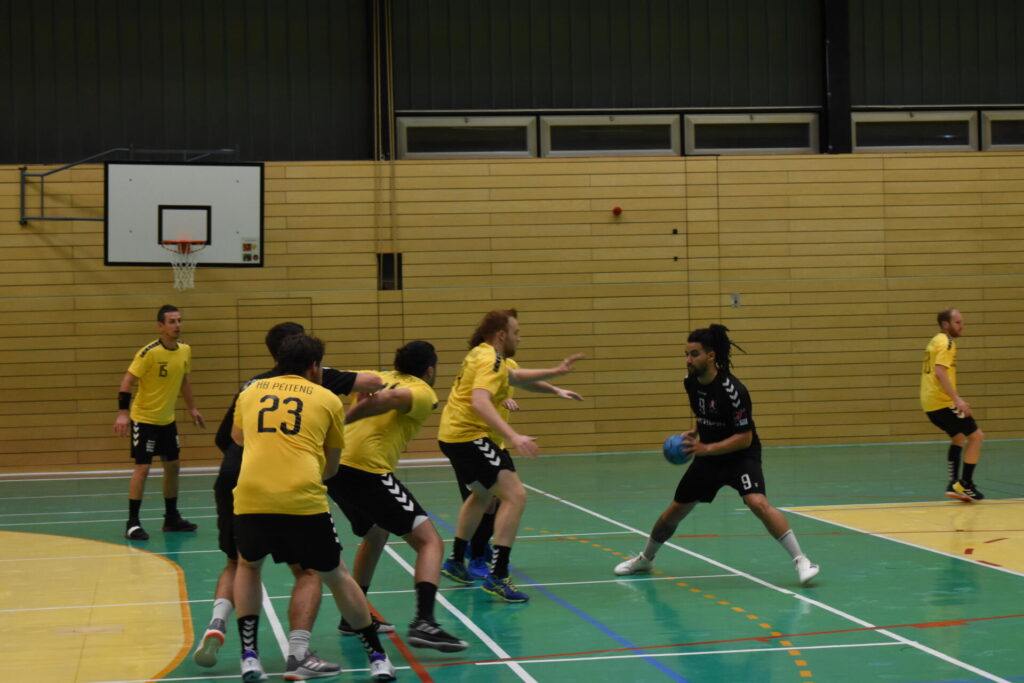 Interviewer: Quel est ton joueur de handball préféré et pourquoi?
Steve: Mon joueur de Hand préféré est un ailier, Dibirov. Il a une gamme de tirs remarquables, capable de tirer dans toutes les situations, rapide et percutant tout en étant très malin. C'est ce genre de joueur que j'aime regarder , pas forcément un physique impressionnant mais il joue avec sa tête et ses qualités!
Interviewer: Quelles sont tes prochaines objectifs au handball?
Steve: Bien entendu au niveau collectif gagner le plus de match possible avec l'équipe tout en prenant du plaisir tous ensemble.
Et personnellement tout donner pour être le meilleur à mon poste!
Interviewer: Merci beaucoup Steve!
——————
English version
Interviewer: Steve, you joined the HC Standard before the saison 2020/21. What is your impression of the club after 1,5 years?
Steve: I joined the club after a mishap with my previous club due to COVID. It was thanks to Simon Gallego, I played with his brother when I was in Nîmes and he offered me to join the team when I no longer had a club.
In the end after 1 and a half years I don't regret it, it allowed me to have more responsibility and freedom in my game. Beyond the group which I find has great potential, Standard is like a big family, it's friendly and that's what made me want to stay the following season.
Interviewer: How is it going for the men team? After having missed the championship round what are the targets for the rest of the saison?
Steve: Unfortunately we lost against Mersch but otherwise the season started well, even if it will be difficult we can still qualify for the upper play off so we have to keep going.
Interviewer: How did you start with playing handball?
Steve: I started playing Handball at the age of 6, I was a hyper active child, so my parents made me try all sports. In the end I continued because it was the only sport where I was good 🤣!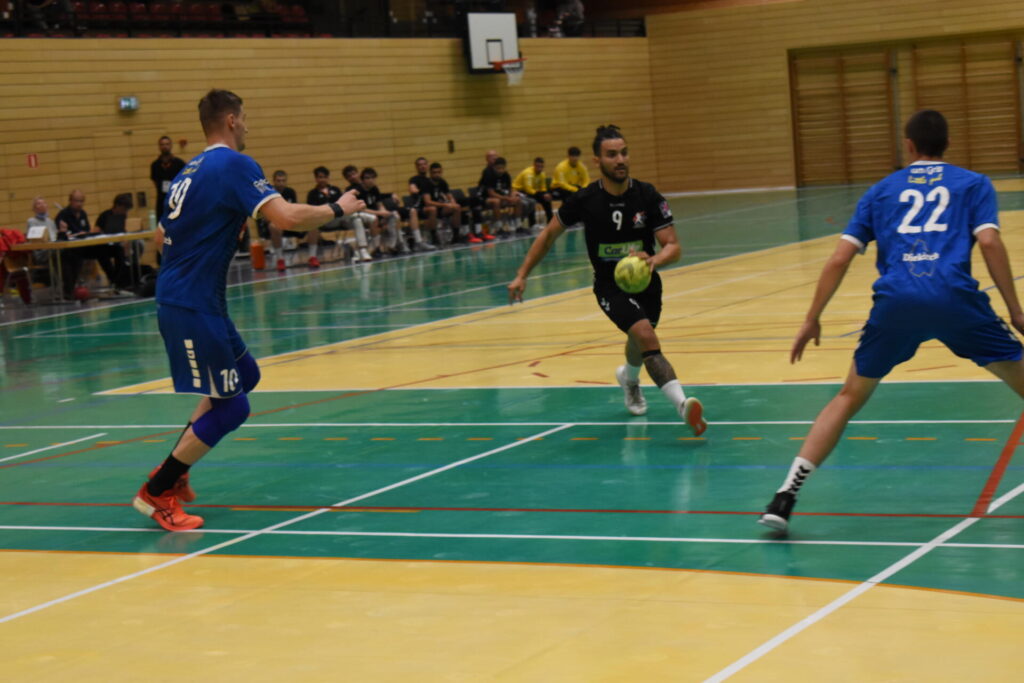 Interviewer: Can you give us an overview about your handball carreer so far?
Steve: I crossed all of France a bit, I started playing in Nimes in the first division for 4 seasons then I went to Cherbourg where I played 4 seasons too, then Vernon, Billère and then it was Nikola Malesevic (Dudelange coach with whom I played in Nîmes) who contacted me to join Dudelange.
Interviewer: So far, what was your highlight in handball?
Steve: There were several highlights during my carreer, but I would single out my title of French champions of 2nd divisions with Nîmes (we had come down after a complicated season and the following year we all won for go up direct). I was young and it was in my youth club.
Interviewer: What is your routine on a game day? What do you do on a weekend when there is no handball game?
Steve: Of course I have a routine, I try to do as little activities as possible on match day, the traditional nap and I usually always eat the same thing and my day is very organized. Since I've been playing Handball it's always the same 🤣!
Interviewer: You became the coach of the U17 boys some month ago. How is it going with them? What are your targets for this saison?
Steve: I'm very happy to be the coach of the u17s, it's going well and they are listening to it. There is a lot of potential in the team and if we work well we can do good things!
My goals are of course to have results and win as many matches as possible.
But especially that the players develop mentally as well as physically to reach the next Handball level. I hope that some can play in the first team one day!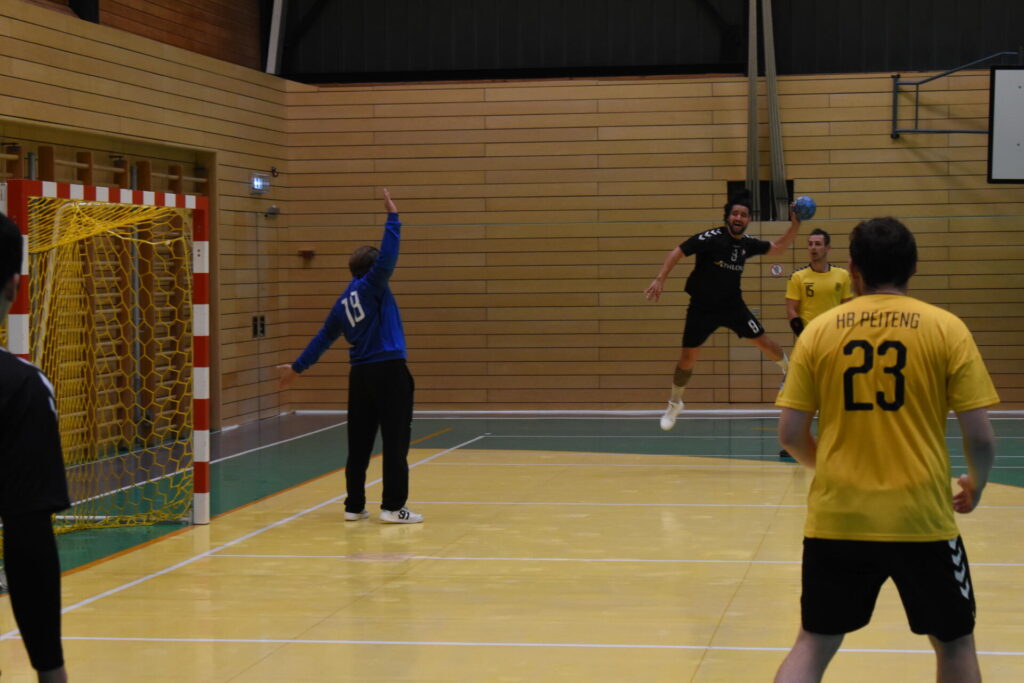 Interviewer: What do you want to tell young players? On what should they focus?
Steve: I want to tell young people that if they want and are motivated to be able to hope to play in the AXA league one day, you have to be demanding to yourself. In France, there is an expression "we have nothing, without anything" and basically that means that you have to give yourself the means to be able to achieve your goals!
Interviewer: In which other sport are you good? In which one are you really bad?
Steve: I think I'm not bad at all other sports. But in my opinion I'm very bad at volleyball yet I love it in the meantime 🤣.
Interviewer: Many people consider you as one of the best players that have played for the club. For the young players you are a role model. How do you feel with that? Is it also a kind of pressure you have to deal with?
Steve: I've been playing Hand for over 10 years, there is no pressure. I must have a minimum level of play to meet the expectations of the coach. Best player, I don't know but in any case I will give my all to represent the club better and show the league that Standard has a place among the elite!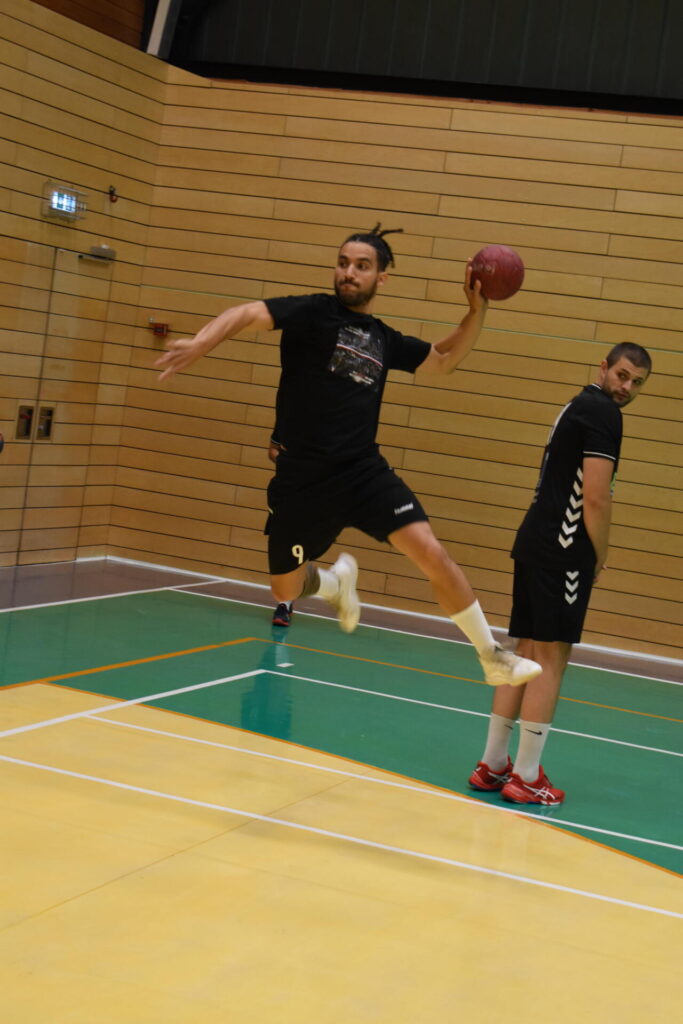 Interviewer: Who is your favorite handball player and why?
Steve: My favorite Hand player is a winger, Dibirov. He has a remarkable range of shots, able to shoot in all situations, fast and punchy while being very clever. This is the kind of player I like to watch, not necessarily an impressive physique but he plays with his head and his qualities!
Interviewer: What are your next targets in handball?
Steve: Of course at the collective level win as many matches as possible with the team while having fun together.
And personally give everything to be the best in my job!
Interviewer: Merci beaucoup Steve!